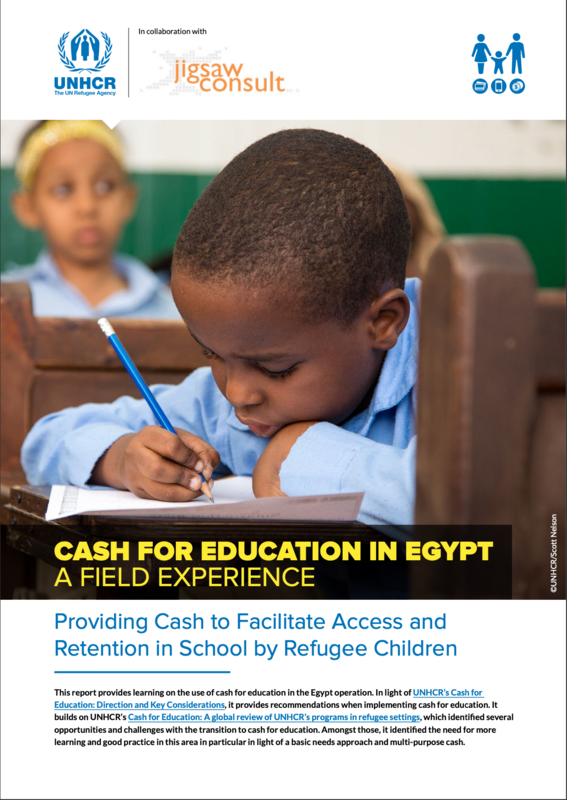 UNHCR has a global strategy to promote the effective use of cash within refugee education programmes. A recent report titled Cash for education: a global review of UNHCR programs in refugee settings identified several opportunities and challenges regarding the transition to cash for education approaches. Among those, the report identified the need for more learning and documentation of good practice in the area of cash for education, in particular in light of basic needs and multi-purpose cash approaches. To address this need, Jigsaw conducted a review of the implementation of UNHCR's cash for education strategy in Egypt, in order to learn lessons regarding the national approach that could be valuable in other contexts.
The review began with a document review and contextual interviews with four UNHCR global team members in the cash and education teams. This was followed by two of the Jigsaw team conducting a research visit to Cairo with the UNHCR Egypt team. During the visit in-depth interviews were conducted with 15 staff from UNHCR, implementing partners and other NGOs and INGOs - with each being asked to give their insights on the UNHCR key considerations on cash for education. A half-day meeting was also held with 35 members of the Obour Syrian Refugee Community to capture their perspectives and experiences of receiving the educational grants.
The findings were presented in an internal learning report and as a public resource from UNHCR. It is our hope that this review provides a useful contribution to understanding the ways in which cash can be used effectively to enhance refugee education.